Spanish Heritage - End Madrid, Small Group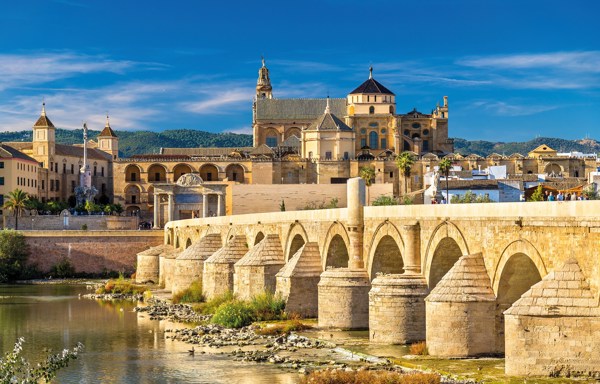 Spanish Heritage - End Madrid, Small Group
This 18-day guided tour takes you from Barcelona to Madrid - stopping at every charming town in between. Walk the narrow lanes of Barcelona's Gothic Quarter with a Local Expert, weaving your way to the lively Las Ramblas, where street performers put on shows. Paella was created in Valencia, and you will indulge in the savory rice dish after a private demonstration from a local chef. Stomp your feet in Seville during a flamenco dance lesson, then relax as the professionals put on a private show for you and your fellow travelers. Walk across the 2,000-year-old Roman bridge in Cordoba, then meet a local historian at the city's 8th Century mosque with a Christian cathedral inside it. In Madrid, walk with a Local Expert through the city's Old Quarter to the Prado Museum, where an art historian will reveal the stories behind the masterpieces of artists such as Goya and Titian.
Dining Summary
6 Dinner with Wine (DW)
17 Breakfast (B)
1 Lunch with Wine (LW)
Choice Highlights
Choose between two carefully selected activities
Seville: Stroll through Barrio de Santa Cruz with your Local Expert to hear how the Jewish community has shaped the history of Seville.
Seville: Explore Seville's top sights on a panoramic city tour with your Local Expert.
Choose between two carefully selected activities
Santiago de Compostela: Join a city tour with a Local Expert and visit Praza do Obradoiro to admire the cathedral facade festooned with architectural frills.
Santiago de Compostela: Embark on a scenic walk on part of the Way of St. James with a Local Expert, through parks and gardens that transform with the seasons.
Additional Included Highlights
: Our highly-skilled Travel Director will ensure your journey is seamless, serving as your expert guide, consummate organiser, and friend overseas.
: Personal radio headsets give you the freedom to wander during visits to famous highlights, without missing any of your Local Expert's fascinating commentary.
: We carry your bags for you and promptly deliver them to your hotel door.
: Hotel and restaurant tips are included - you'll never have to worry about how much to give, nor search for foreign currency. We also include all taxes and porterage charges at hotels.
: Stay connected with friends and family with our complimentary coach and hotel Wi-Fi (where available).
: From time to time, your Travel Director will delight you with an Insight Flourish, which is a local specialty representing the destination.
: If your arrival and/or departure flights are as per the itinerary start and end dates, then transfers are available at scheduled times. If your flights are outside these times, or you have booked additional nights accommodation with Insight Vacations, you may purchase transfers or make your own way from/to the airport.
Authentic Dining
Barcelona: Join your Travel Director at 18:00 for a Welcome Dinner at a local restaurant.
Valencia: Learn the authentic recipe of paella when you join a local chef for a Cooking Demonstration. Savour the flavours of this classic dish for dinner, washed down with a glass of Sangria, during your Highlight Dinner.
Rueda: Some of Spain's finest wines hail from the Rueda region. During your tasting, learn about the Verdejo grape and what to look for in a fresh white.
Gijon: Meet Flor, a local of Gijón, for a delicious meal of locally sourced produce that she has prepared just for you.
Barcelona: At a typical Catalan restaurant, savour a delicious Celebration Dinner that incorporates classic cooking with the freshest produce.
Insight Experiences
Granada: Visit the famous Alhambra Palace and Generalife Gardens. While others wait in line, you'll be exploring accompanied by a Local Expert, keen to share insights into this Moorish landmark.
Madrid: Witness the world's finest collection of Spanish paintings, plus an impressive international collection, as you tour the Prado Museum with an art historian.
Make Travel Matter
Seville: The Cristina Heeren Foundation aims to promote the teaching and conservation of flamenco and is a beneficiary of a TreadRight Foundation grant. Meet the students of the foundation, learn some basic flamenco steps, and then feel the passion as they perform an emotional show. The school enables students access to cultural education that otherwise may not have occurred. TreadRights sponsorship has helped students to complete their studies in advanced guitar, singing and dance. As students complete their training, they will carry on and safeguard the traditional flamenco dance, contributing to the protection of Andalusia and Spain's cultural heritage. The Cristina Heeren Foundation advances UN Sustainable Development Goal 4: Quality Education and UN Sustainable Development Goal 11: Sustainable Cities and Communities.
San Sebastián: Uncover the important maritime cultural heritage of the Basque country on a neighbourhood walking tour in the old harbour area.
Top Rated Highlights
Barcelona: Venture inside Gaudi's extraordinary masterpiece, the Sagrada Família and marvel at the contrasts of architecture. Above see its giant, tree-like pillars and spectacular vaulting. Admire the wonderful rainbow of the incredible stained-glass windows.
Barcelona: With your Local Expert, drive down Las Ramblas and the elegant Passeig de Grcia to witness some of the finest Modernist architecture. Journey through the Eixample district to see Gaudi's extraordinary masterpiece, the mesmerising Sagrada Família.
Peñíscola: See the castle featured in the film 'El Cid'.
Valencia: See the ultra-modern Centre of Arts and Sciences and the huge gates of the old town, ...
Travel is our passion and every step is designed with your comfort and pleasure in mind, giving you the vacation of your dreams. Enjoy a premium journey packed full of stylish hotels and authentic dining. Savor the views as you travel on spacious customized coaches, so that you arrive refreshed at each destination, and benefit from smaller group sizes. We believe incredible travel is about enjoying every moment, so the only question left for you is where do I want to go?