Best of Spain & Portugal - End Barcelona, Classic Group, Summer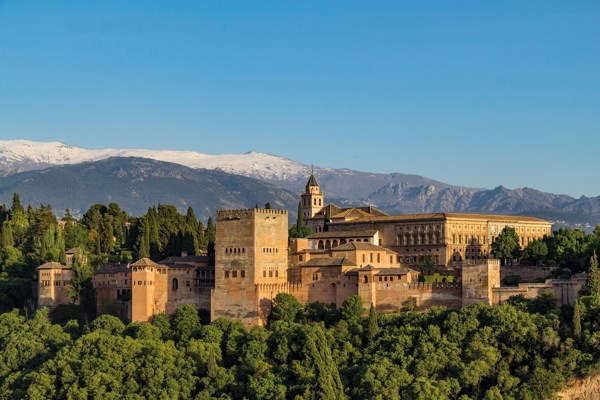 Best Of Spain & Portugal - End Barcelona, Classic Group, Summer
See the masterpieces of Spain and Portugal on this 15-day guided tour. In Madrid, an art historian will walk you through the Prado Museum, where Spain's most impressive paintings hang. Navigate Segovia's medieval streets alongside a Local Expert. Journeying to Granada, visit the region's oldest olive grove, before dining in the home of a local family, sampling local produce and wine. At the Alhambra, explore the palace's lace-like stone walls and wander its manicured gardens. In Seville, stomp to the sounds of an acoustic guitar during a private flamenco dance lesson. In Porto, sip port during a wine tasting, and in Lisbon, see an architectural masterpiece - the Gothic-style Jerónimos Monastery.
Choice Highlights
Choose between two carefully selected activities
Seville: Stroll through Barrio de Santa Cruz with your Local Expert to hear how the Jewish community has shaped the history of Seville.
Seville: Explore Seville's top sights on a panoramic city tour with your Local Expert.
Well-being
: Enjoy the comfort of Insight's luxurious, air-conditioned, 40-seat coach with double the standard legroom and onboard washroom. Our customized luxury coaches are sanitized before the start of your tour and are maintained to very high standards. Physical distancing measures have been implemented on our customized luxury coaches.
: Experience enhanced hygiene protocols to align with the latest guidance following COVID-19.All Travel Directors, Well-Being Directors and Drivers have completed training in enhanced well-being and hygiene protocols.
: We only work with establishments we are confident will consistently adhere to our high well-being standards, which include hotels, restaurants and sight-seeing venues.
: Hand sanitizer is freely available on board for you to use throughout the day.
Travel Director
: "There is nothing quite like sampling the many varieties of tapas. Every region has its own delicacies so you can be assured that you will taste different ones everywhere you go."
: "No visit to Portugal is complete without a thorough exploration of its gastronomy. Our guests are delighted by the high-quality food and generous service for which the Portuguese are known."
: "Guests are surprised to find that Spanish is not the only language spoken in the country – there's also Basque, Galician and Catalan, not to mention the little dialects in each province."
Authentic Dining
Madrid: Join your Travel Director at 18:00 for a Welcome Dinner in a local restaurant and get to know your fellow travellers over a beautiful evening of delicious food and wine.
Porto: Sample a selection of famous Port wines at a tasting at the Vila Nova de Gaia wine stores.
Lisbon: Delight in a taste of the famous Portuguese delicacy, Pastéis de Belém.
Torremolinos: Taste a selection of freshly pressed olive oils with locally made farmer bread when you stop at Almazara, the oldest olive grove in the region.
Alfarnatejo: Hear stories of local life as you join a local family for a freshly prepared traditional lunch with wine.
Valencia: Learn the authentic recipe of paella when you join a local chef for a Cooking Demonstration. Savour the flavours of this classic dish for dinner, washed down with a glass of Sangria, during your Highlight Dinner.
Sant Sadurni dAnoia: Join a wine expert when you visit Cava Dorada. Enjoy a tasting at the great Cava vineyards during your delicious Highlight Lunch.
Barcelona: At a typical Catalan restaurant, savour a delicious Celebration Dinner that incorporates classic cooking with the freshest produce.
Dining Summary: 5 Dinner with Wine (DW), 14 Breakfast (B), and 2 Lunch with Wine (LW)
Insight Experiences
Madrid: Witness the world's finest collection of Spanish paintings, plus an impressive international collection, as you tour the Prado Museum with an art historian.
Granada: Visit the famous Alhambra Palace and Generalife Gardens. While others wait in line, you'll be exploring accompanied by a Local Expert, keen to share insights into this Moorish landmark.
Top Rated Highlights
Madrid: See the highlights of the city with your Local Expert. Visit the Old Town, travelling along the elegant Paseo de la Castellana, past the fountain in the Plaza de Cibeles, the Cervantes Monument and Royal Palace, before crossing the Puerta del Sol.
Segovia: Walk the medieval streets of this fortified city with your Local Expert and see the 14th century Alcazar Palace.
Avila: Walk within the ancient walls of this unique town.
Salamanca: See the handsome arcaded Plaza Mayor, the honey-coloured cathedral and the 16th century university buildings as you explore the city with your Local Expert.
Porto: See the iconic bridges and buildings decorated in tiles.
Fátima: Join the faithful at one of the world's holiest sites and pay homage at the Chapel of the Apparitions or see the basilica.
Obidos: Lead by your Travel Director, walk through the picturesque narrow streets up to the main square of this ancient walled town.
Lisbon: Explore with your Local Expert, from the Lower Town, beneath the hilltop Bairro Alto to the Terreiro do Paco. Visit the Belém Quarter to see the modern Monument to the Discoveries and the medieval Belém Tower.
Lisbon: Visit Jerónimos Monastery with its beautiful Manueline architecture, reflecting Portugal's trade over the centuries and UNESCO World Heritage Site.
Seville: Visit the Seville Cathedral with your Local Expert. Pass the altarpiece dripping with gold and see the Tomb of Columbus, held aloft by four kings.
Seville: Stroll through Barrio de Santa Cruz with your Local Expert t...
Travel is our passion and every step is designed with your comfort and pleasure in mind, giving you the vacation of your dreams. Enjoy a premium journey packed full of stylish hotels and authentic dining. Savor the views as you travel on spacious customized coaches, so that you arrive refreshed at each destination, and benefit from smaller group sizes. We believe incredible travel is about enjoying every moment, so the only question left for you is where do I want to go?