Treasures of Spain, Portugal & Morocco - Classic Group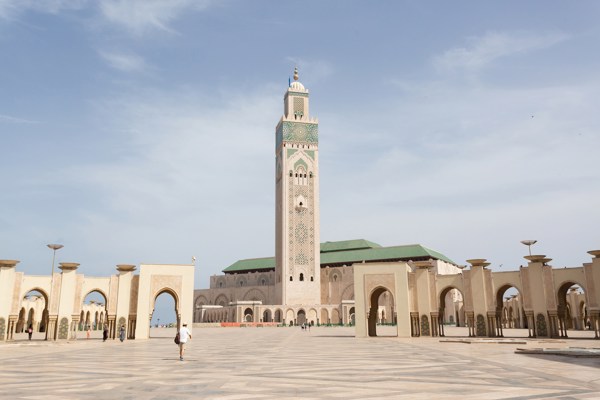 Treasures Of Spain, Portugal & Morocco - Classic Group
Traverse Spain, Portugal and Morocco on this 17-day guided tour. Walk through the capital city of Spain, Madrid, with a Local Expert, who will drive you through the Old Quarter to see the origins of the city. In Lisbon, explore the long avenues of Lower Town with a Local Expert, and through the finest square in the city: the Terreiro do Paço. Journey to Gibraltar, a territory under British control, for a tour of St. Michael's Cave with a Local Expert; be sure to look out for the legendary guardians of the colony, the Barbary Apes. In Marrakesh, meet a Local Expert in the Jemaa el-Fnaa Square, where you can watch dancers and acrobats twirl. Travel to the white-washed village of Alfarnatejo, then discover the oldest olive grove in the region, where you'll taste freshly pressed oils and dine on a traditional meal while listening to stories of local life in the home of a Spanish family.
Dining Summary
4 Dinner with Wine (DW)
16 Breakfast (B)
2 Dinner (D)
1 Lunch with Wine (LW)
Choice Highlights
Choose between two carefully selected activities
Seville: Stroll through Barrio de Santa Cruz with your Local Expert to hear how the Jewish community has shaped the history of Seville.
Seville: Explore Seville's top sights on a panoramic city tour with your Local Expert.
Additional Included Highlights
: Our highly-skilled Travel Director will ensure your journey is seamless, serving as your expert guide, consummate organiser, and friend overseas.
: Personal radio headsets give you the freedom to wander during visits to famous highlights, without missing any of your Local Expert's fascinating commentary.
: We carry your bags for you and promptly deliver them to your hotel door.
: Hotel and restaurant tips are included - you'll never have to worry about how much to give, nor search for foreign currency. We also include all taxes and porterage charges at hotels.
: Stay connected with friends and family with our complimentary coach and hotel Wi-Fi (where available).
: From time to time, your Travel Director will delight you with an Insight Flourish, which is a local specialty representing the destination.
: If your arrival and/or departure flights are as per the itinerary start and end dates, then transfers are available at scheduled times. If your flights are outside these times, or you have booked additional nights accommodation with Insight Vacations, you may purchase transfers or make your own way from/to the airport.
Authentic Dining
Madrid: Join your Travel Director at 18:00 for a Welcome Dinner in a local restaurant and get to know your fellow travellers over a beautiful evening of delicious food and wine.
Lisbon: Delight in a taste of the famous Portuguese delicacy, Pastéis de Belém.
Alfarnatejo: Hear the stories of local life as you are invited into the home of a local family to join them for a freshly prepared, traditional lunch, with wine.
Alfarnatejo: Taste a selection of freshly pressed olive oils with locally made farmer bread when you stop at Almazara, the oldest olive grove in the region.
Madrid: With good food and wine, toast the culmination of your travels during a fabulous Celebration Dinner.
Insight Experiences
Madrid: Witness the world's finest collection of Spanish paintings, plus an impressive international collection, as you tour the Prado Museum with an art historian.
Granada: Visit the famous Alhambra Palace and Generalife Gardens. While others wait in line, you'll be exploring accompanied by a Local Expert, keen to share insights into this Moorish landmark.
Make Travel Matter
Seville: The Cristina Heeren Foundation aims to promote the teaching and conservation of flamenco and is a beneficiary of a TreadRight Foundation grant. Meet the students of the foundation, learn some basic flamenco steps, and then feel the passion as they perform an emotional show. The school enables students access to cultural education that otherwise may not have occurred. TreadRights sponsorship has helped students to complete their studies in advanced guitar, singing and dance. As students complete their training, they will carry on and safeguard the traditional flamenco dance, contributing to the protection of Andalusia and Spain's cultural heritage. The Cristina Heeren Foundation advances UN Sustainable Development Goal 4: Quality Education and UN Sustainable Development Goal 11: Sustainable Cities and Communities.
Top Rated Highlights
Madrid: See the highlights of the city with your Local Expert. Visit the Old Town, travelling along the elegant Paseo de la Castellana, past the fountain in the Plaza de Cibeles, the Cervantes Monument and Royal Palace, before crossing the Puerta del Sol.
Avila: Walk within the ancient walls of this unique town.
Salamanca: See the golden stone buildings and handsome arcades of Plaza Mayor for which this city is famous for.
Fátima: Join the faithful at one of the world's holiest sites and pay homage at the Chapel of the Apparitions or see the basilica.
Lisbon: Explore with your Local Expert, from the Lower Town, beneath the hilltop Bairro Alto to the Terreiro do Paco. Visit the Belém Quarter to see the modern Monument to the Discoveries and the medieval Belém Tower.
Lisbon: Visit Jerónimos Monastery with its beautiful Manueline architecture, reflecting Portugal's trade over the centuries and UNESCO World Heritage Site.
Seville: Visit the Seville Cathedral with your Local Expert. Pass the altarpiece dripping with gold and see the Tomb of Columbus, held aloft by four kings.
Seville: Stroll through Barrio de Santa Cruz with your Local Expert to hear how the Jewish c...
Travel is our passion and every step is designed with your comfort and pleasure in mind, giving you the vacation of your dreams. Enjoy a premium journey packed full of stylish hotels and authentic dining. Savor the views as you travel on spacious customized coaches, so that you arrive refreshed at each destination, and benefit from smaller group sizes. We believe incredible travel is about enjoying every moment, so the only question left for you is where do I want to go?