Easy Pace Spain - Small Group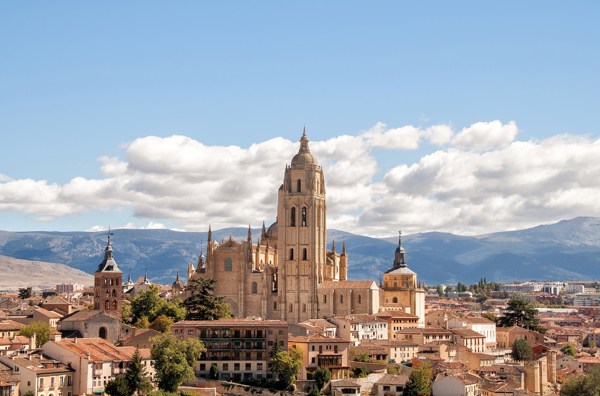 Easy Pace Spain - Small Group
See the best of Spain during a leisurely 10-day guided tour. Barcelona boasts an impressive Old Town, which you will see with a Local Expert. They will wind you though the medieval maze of the Gothic Quarter, down the city's main shopping avenue, and to the Sagrada Família - a Roman basilica with towering mosaic spires that pierce the sky. Dip your toes into the Bay of Biscay when you visit the seaside resort town of San Sebastián, and enjoy a progressive dinner featuring bite-sized treats paired with local Txakoli wine. In Madrid, see the Royal Palace alongside a Local Expert, then meet an art historian for a one-of-a-kind tour of the Prado Museum, one of the world's greatest art galleries.
Dining Summary
3 Dinner with Wine (DW)
9 Breakfast (B)
Choice Highlights
Choose between two carefully selected activities
Bilbao: Visit the architectural landmark Guggenheim Museum and see works of contemporary art by Spanish and international artists.
Bilbao: Join your Local Expert for sightseeing and take the funicular to Mount Artxanda to enjoy panoramic views of the town below.
Additional Included Highlights
: Our highly-skilled Travel Director will ensure your journey is seamless, serving as your expert guide, consummate organiser, and friend overseas.
: Personal radio headsets give you the freedom to wander during visits to famous highlights, without missing any of your Local Expert's fascinating commentary.
: We carry your bags for you and promptly deliver them to your hotel door.
: Hotel and restaurant tips are included - you'll never have to worry about how much to give, nor search for foreign currency. We also include all taxes and porterage charges at hotels.
: Stay connected with friends and family with our complimentary coach and hotel Wi-Fi (where available).
: From time to time, your Travel Director will delight you with an Insight Flourish, which is a local specialty representing the destination.
: If your arrival and/or departure flights are as per the itinerary start and end dates, then transfers are available at scheduled times. If your flights are outside these times, or you have booked additional nights accommodation with Insight Vacations, you may purchase transfers or make your own way from/to the airport.
Authentic Dining
Barcelona: Join your Travel Director at 18:00 for a Welcome Dinner at a local restaurant.
San Sebastián: Enjoy an evening of pintxos, dining with locals in this Basque tradition. Your delicious dinner includes a wide variety of finger food delicacies, each with their own regional flavour, flair and presentation.
Madrid: With good food and wine, toast the culmination of your travels during a fabulous Celebration Dinner.
Insight Experiences
Madrid: Witness the world's finest collection of Spanish paintings, plus an impressive international collection, as you tour the Prado Museum with an art historian.
Top Rated Highlights
Barcelona: Venture inside Gaudi's extraordinary masterpiece, the Sagrada Família and marvel at the contrasts of architecture. Above see its giant, tree-like pillars and spectacular vaulting. Admire the wonderful rainbow of the incredible stained-glass windows.
Barcelona: With your Local Expert, drive down Las Ramblas and the elegant Passeig de Grcia to witness some of the finest Modernist architecture. Journey through the Eixample district to see Gaudi's extraordinary masterpiece, the mesmerising Sagrada Família.
Zaragoza: See the four towers of El Pilar and the Rio Ebro.
Pamplona: Spend free time exploring this city, known for its annual Running with the Bulls festival.
Bilbao: Visit the architectural landmark Guggenheim Museum and see works of contemporary art by Spanish and international artists.
Bilbao: Join your Local Expert for sightseeing and take the funicular to Mount Artxanda to enjoy panoramic views of the town below.
San Sebastián: Led by your Local Expert, enjoy a guided walking tour of the Old Quarter including Plaza de la Constitucion.
Madrid: See the highlights of the city with your Local Expert. Visit the Old Town, travelling along the elegant Paseo de la Castellana, past the fountain in the Plaza de Cibeles, the Cervantes Monument and Royal Palace, before crossing the Puerta del Sol.
Segovia: Walk the medieval streets of this fortified city with your Local Expert and see the 14th century Alcazar Palace.
Burgos: See El Cid's burial place in the cathedral, a UNESCO World Heritage Site.
Travel Director
: "One food I really love introducing my guests to is the gilda because it is the original pintxo and has evolved into Europe's most exciting foodie experience."
: "There is nothing quite like sampling the many varieties of tapas. Every region has its own delicacies so you can be assured that you will taste different ones everywhere you go."
: "Guests are surprised to find that Spanish is not the only language spoken in the country – there's also Basque, Galician and Catalan, not to mention the little dialects in each province."
Well-being
: Enjoy the comfort of Insight's luxurious, air-conditioned, 40-seat coach with double the standard legroom and onboard washroom. Our customized luxury coaches are sanitized before the start of your tour and are maintained to very high standards. Physical distancing measures have been implemented on our customized luxury coaches.
: Experience enhanced hygiene protocols to align with the latest guidance following COVID-19.All Travel Directors, Well-Being Directors and Drivers have completed training in enhanced well-being and hygiene protocols.
: We only work with establishments we ...
Travel is our passion and every step is designed with your comfort and pleasure in mind, giving you the vacation of your dreams. Enjoy a premium journey packed full of stylish hotels and authentic dining. Savor the views as you travel on spacious customized coaches, so that you arrive refreshed at each destination, and benefit from smaller group sizes. We believe incredible travel is about enjoying every moment, so the only question left for you is where do I want to go?